F.A.R.T.: Top Secret! No Kids Allowed!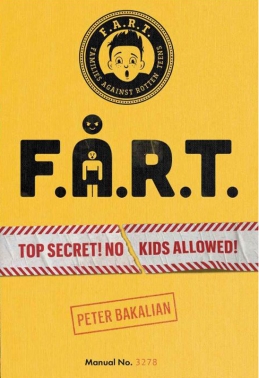 Published by Simon & Schuster, Aladdin
The kid who calls himself FURIOUS POPCORN has got it all - thousands follow his junk food channel, honor students do his homework and his parents are clueless, BUT THEN he sees what no kid has seen before - an all powerful parenting manual by a secret society called FAMILIES AGAINST ROTTEN TEENS (F.A.R.T.). Are his parents part of this? Can Furious Popcorn and his crew smash F.A.R.T. before they unleash their new mind controlling Brain Modem? This middle grade comedy trilogy dives deep into an untold secret history and steals a glance at the infamous manual itself. Be careful how you use it!

Hardcover, ebook, audiobook | 144 pages | 6 x 0.6 x 8 inches | 9781534436190 | May 3, 2022