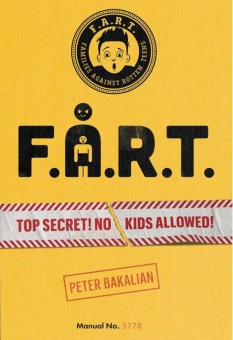 "A laugh out loud outrageous adventure with likeable characters and an engaging storyline. I loved the obstacles, the fast pace, and the unique skill set each character brought to the group." - Meagan Marie, Goodreads

THE F.A.R.T. DIARIES is a comedy trilogy about a kid who uncovers an insanely powerful obedience manual written by Families Against Rotten Teens (F.A.R.T.) - a secret society of frustrated parents. This dive into subversive kid lit features a delicious peek inside the manual and the revolution it starts. Middle graders and up will read it for laughs. Parents will grab it for helpful hints.
HACK INTO F.A.R.T.'S SECRET WEBSITE!

COMING SOON!